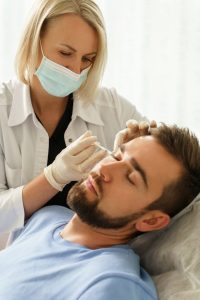 ---
We offer a wide array of spa treatments designed to cater specifically to the needs of men. Our experienced professionals ensure that each treatment is performed with the utmost care and attention to detail. At RareV Med Spa Las Vegas, our treatments include the following.
Brotox Las Vegas
Can you see the effects of aging on your face? Banish those fine lines and wrinkles with our Botox treatments! Our experts specialize in providing natural-looking results that leave you looking younger and rejuvenated. Whether it's smoothing out forehead lines, reducing crow's feet, or minimizing frown lines, botox for men can help you achieve a more youthful and refreshed appearance.
---
Executive Facial
Indulge in our signature executive facials for men, designed to address the unique needs of men's skin. This treatment focuses on deep cleansing, exfoliation, and hydration, revitalizing and nourishing your skin. Our skilled estheticians use high-quality products and techniques to address dullness, congestion, and razor burn, giving you a healthier and more youthful complexion.
---
Back Facial
Don't forget about the skin on your back! Give it the attention it deserves with our luxurious back facial. This treatment deeply cleanses, exfoliates, and moisturizes your back, targeting concerns such as acne, congestion, and dryness. Relax as our skilled estheticians refresh your skin, leaving it smooth and blemish-free.
---
Laser Hair Removal
Say goodbye to unwanted hair with our advanced laser hair removal treatments. Our state-of-the-art technology provides long-lasting results, making shaving and waxing a thing of the past. Our experienced technicians ensure comfortable and efficient hair removal, leaving you with smooth and hair-free skin. Need nose, back, or ear laser hair removal? We've got it all!
---
Laser Beard Shaping
Grooming your beard has never been easier with our laser beard shaping services. Our precise laser technology helps sculpt your beard to perfection, achieving a neat and symmetrical appearance. Say goodbye to tedious shaping routines and enjoy a well-groomed, hassle-free beard that enhances your overall look.
---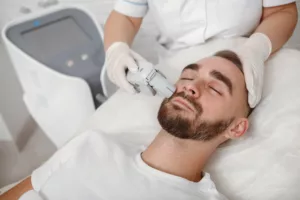 ---
Microdermabrasion
Reveal your best skin with our microdermabrasion treatment. This non-invasive procedure gently exfoliates the skin, removing dead cells and revealing a brighter and smoother complexion. It effectively reduces the appearance of acne scars, sun damage, and fine lines, giving you a renewed and refreshed look.
---